Exterior home upgrades often dramatically increase the resale value. A wide range of innovative roofing materials can suit your taste and are visually appealing and cost-effective. Read this article to learn about 6 innovative roofing products in 2021.
Metal Shingles
Metal shingles are a new roofing material manufactured for homeowners looking for extra durable shingles. Metal roofs are widely known for their durability, recyclability, and resistance to wind and fire.
Another benefit of metal shingles is the airspace between the metal and the roof deck. The airspace reflects excessive heat during the summer.
You can expect to pay between $3.50 to $6 per square foot to have these shingles installed on your home. Although metal shingles tend to be more expensive than alternative options, they have a longer lifespan and are more durable.
Louvered Roofs
Louvered roofs have slanted horizontal slats that open and close with a button. These can rotate a full 180 degrees to let you enjoy the sunlight, wind, rain, and shade. You can open them to feel the cool breeze or close them to protect your valuables. During rain, bring the louvers into a closed position to form rain channels. These channels fill, go over the lip, and flow onto the floor to prevent water damage.
Louvered roofs make your patios look more appealing and increase the resale value. They give you a more relaxed and beautiful view of your surroundings. These roofs are manufactured using durable materials that include high-graded extruded aluminum elements and stainless steel fasteners. Experts will hardly take 6-8 weeks to perfectly install a louvered roof. To install a louvered roof system, you can expect to pay as little as $20 and as much as $100 per square foot.
Solar Shingles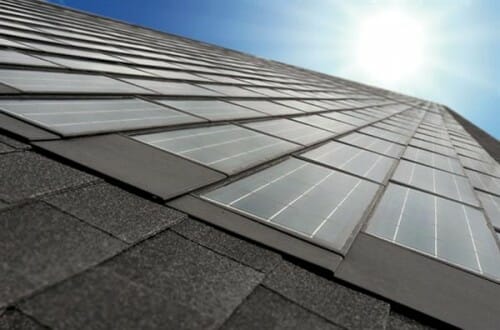 Image courtesy of Modernize.
Solar shingles are one of the latest technologies in the roofing industry. This roofing material is visually similar to asphalt shingles but is capable of generating electricity.
Solar shingles usually last for 25-30 years. However, the added benefit is that solar shingles continue generating electricity even after they reach their peak life, but their capacity reduces. You can install a few solar shingles to significantly reduce your energy bills. The number you'll need to install to power your appliances will depend on the amount of energy your household consumes on average. One shingle produces between 13 and 63 watts of energy.
Solar shingles can cost anywhere from $21 to $25 per square foot. When compared to solar panels, solar shingles are more appealing, more cost-effective, and easier to install.
Keep in mind, however, solar shingles will require a particular roof slope and extended sunlight exposure to function properly.
Synthetic Slate Shingles

Synthetic slate shingles and authentic slate shingles are quite similar in appearance, but synthetic slate shingles are manufactured using pure or recycled steel, cement, plastic, clay, rubber, polymer, asphalt, and fiber. Therefore, they are also known as eco-friendly roofing materials. A broad range of styles and designs are currently available.
Synthetic slate shingles cost 50% to 60% less than real slate shingles. They cost roughly about $9 to $12 per square foot, whereas real slate shingles can cost $22 to $43.
Besides being aesthetically appealing, this roofing material is resistant to fire and can endure extreme weather conditions.
Synthetic Wood Shake
Synthetic wood shakes give your roof a rustic look. These roofing materials are manufactured using redwood, cypress, pine, or western red cedar trees. The widely used material for synthetic wood shake is the vinyl cedar shake.
Traditional and authentic wood shakes are difficult to maintain and are a bit costly. A broad range of synthetic wood shakes is being manufactured to mimic the appeal and characteristics of authentic wood shakes. They are similar in appearance to the traditional wood shakes but at lower prices.
Interested In These Innovative Roofing Products?
Contact us to let us know you're interested in installation.
Reach Out